SAVE THE DATE - SATURDAY, OCTOBER 5TH

OUR FALL FAIR
Our Fall Fair is getting closer. Take advantage of store sales and coupons. We are trying for 20 baskets Those that are "crafty" have some time to put things together. The craft items seem to do very well at fairs. Think of basket themes for our Raffle table and contribute here and there towards them to make them really great baskets. Some examples: Wine-crackers, bingo, household cleaning, car wash, mens tools, ladies spa, toys, baby, dog, cats, movie night, We have a comforter (queen), Magic Bullet, blender and handbag - consider adding to these baskets, and for the college-bound child, possibly a small microwave or toaster....themes are endless. Also consider gift cards. If someone starts a basket, please let us know so that we could help you "make" that basket. Come on men...give us some ideas that will appeal to men. We have 10 weeks to do this in, which should give us enough time and not "break the bank" if we work together to help.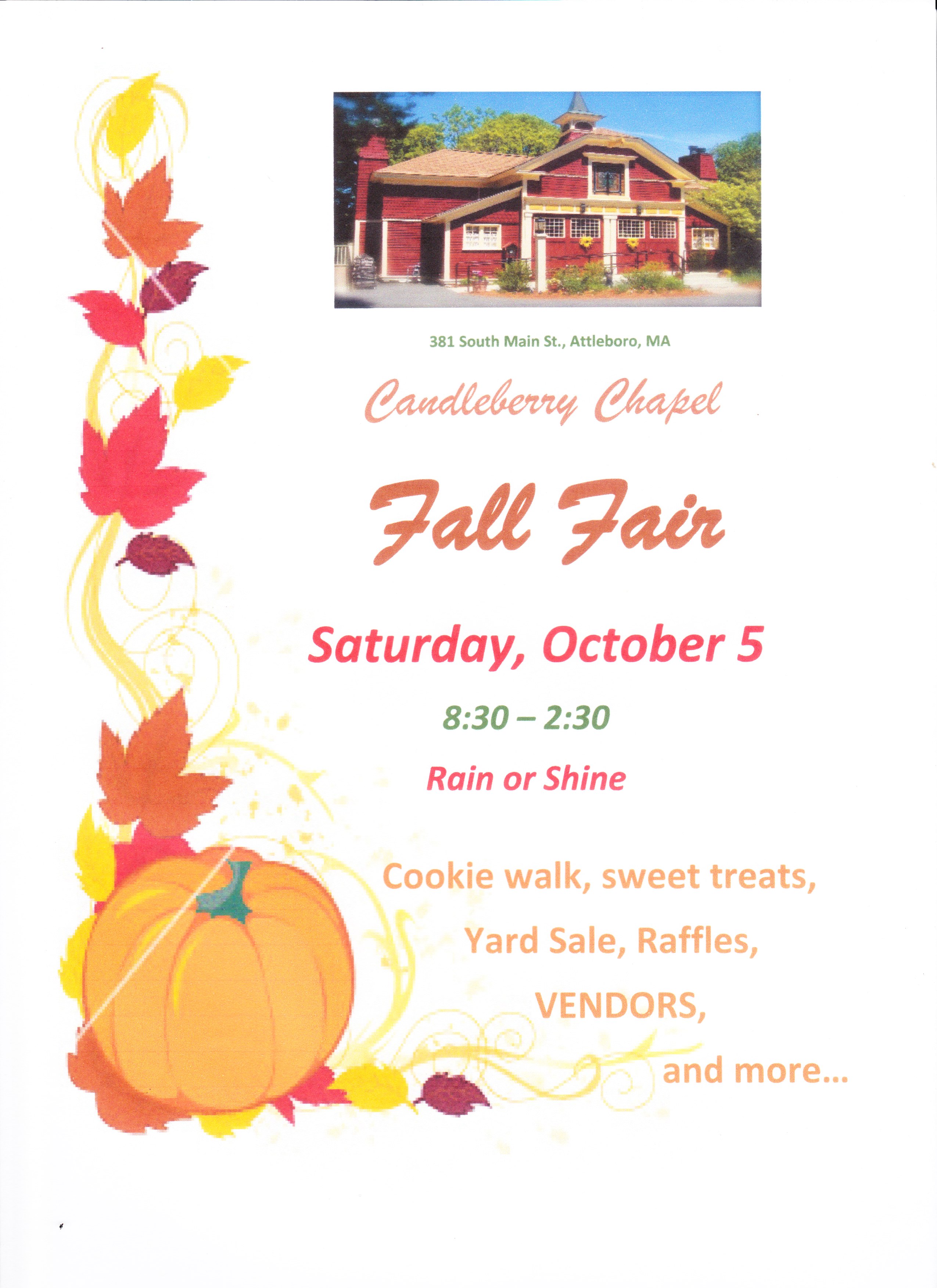 CRAFT GROUP
Our next class will be held on Tuesday, September 3rd beginning at 6:30 p.m., in which we will attempt to make a blanket with fringed knots holding it together, no sewing involved. Thereafter, beginning in October, our classes will be held on the first Wednesday of every month. If you would like to join in on the fun, please contact Chrys Alam at chryssings@gmail.com SUBJ: CRAFT GROUP for more information.
EVENSONG SERVICE
The next Evensong Service will be held on Wednesday, September 4th at 7:00 p.m. in the Chapel. We will be praying for PEACE WITHIN AND PEACH WITHOUT. At this time, with all that has been going on in our country, it would be a good thing to pray for ourselves, our families, our Chapel and our nation....for Peace.
FunDRIVE UPDATE
Our first FunDrive earlier this year was a great success! Our next drive is slated for tomorrow - Saturday, August 24th. School time will be here before we know it, and we need to make room in our closets for the new school year. Don't forget to tell your family, friends and neighbors. Flyers are available at the entrance of the Chapel. If you have bags to drop off, they can be dropped off anytime between 12:00 noon - 7:00 p.m. at the Chapel beginning on Thursday, August 22nd.
HOME PLATE RESTAURANT FUNDRAISER
We will be holding another food fundraiser on Tuesday, September 17th. 20% of ALL items, including drinks and gift cards, will go towards our Chapel. Coupons are now available and need to be distributed before this date. This is an all-day fundraiser. We hope you will join us. If you would like tickets, please contact the Chapel office at 508.222.2525 and leave a contact message. These tickets will not be available at Home Plate.
WOULD YOU BE......
Would you or anyone in your household (including teens and pre-teens) be interested in servicing as a worship leader in the future? We would like to bring different folks in to lead the congregation in the "Call to Worship" and "Invocation", as well as read the Scripture. If you, or someone you know, is interested, please e-mail the Chapel Office at candleberrychapel @gmail.com. Thank you
FOOD & FRIENDS - FOOD KITCHEN VOLUNTEERS
Below is the final date for 2019 year for volunteers needed for the Food Kitchen at Centenary United Methodist Church on the corner of Sanford Street and N. Main Street in Attleboro. All dates are monthly and are on Saturdays from 8:30 a.m. - 12:30 p.m.. If you should have any questions, please leave a message on the Chapel Office phone at 508.222.2525.
Sept. 7
IF YOU KNOW....
If you know of anyone who is in need of a visit, a card or flowers, please call the Candleberry Chapel office at 508.222.2525 or e-mail to candleberrychapel@gmail.com. Without you, we may not know who is in need. Thank you.
DEDICATION OF FLOWERS/BULLETINS
If you would like to sponsor bulletins for a month or dedicate flowers for a given week, please notify the office at candleberrychapel@gmail.com; Subject: FLOWERS or BULLETINS. The cost of the flowers is $25.00 and the cost of the bulletins is $28.00/mo. Thank you.
COFFEE AN'
If you would be interested in volunteering to do a coffee hour after Saturday or Sunday Service, sign-up sheets are available on the board at the back of the Chapel. It's a great time to take some time for ourselves and sit and chat with friends at either the end of a long day or to begin a new day. Please join us.